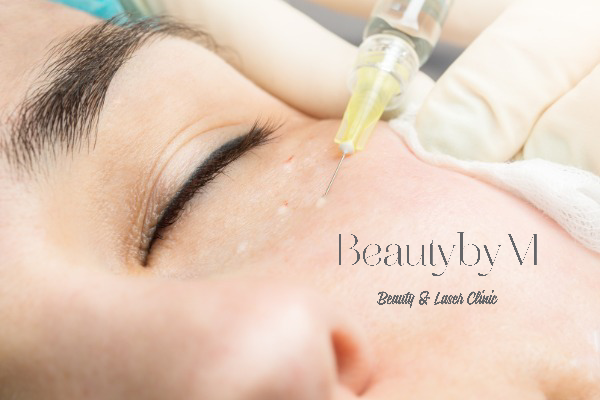 Treatment packages available
Mesotherapy is a non- surgical treatment that involves a series of small injections of a solution that contains hyaluronic acid, vitamins, minerals and amino acids delivered into the mesodermal layer of the skin.
Both men and women, use Mesotherapy for treating facial conditions such as acne scars, uneven skin tone, dull skin, dark circles, fine lines and skin sagging.
Treated skin conditions:
Fine lines and wrinkles
Eyes - Dark circles, puffy eyes, tired looking eyes
Dull looking skin
Tighten loose skin
Lighten pigmentation
Hair loss or post hair transplant
Stretch marks
Mesotherapy may help prevent hair loss, improve hair quality, and stimulate hair growth.
The objective of this treatment is to restore and increase microcirculation in the scalp, provide nutrients, slow down the shrinking of follicles, and stimulate hair growth.
Mesotherapy is ideal if you don't want to go down the Botox and Fillers route but rather aim to achieve natural glowing look and nourish your skin from the inside out. The treatment doesnt change your facial features.
Social Downtime: 24-72hrs
Light swelling and bruising may be exprienced
Skin flaking, micro-scabbing in the injection area, sensitivity post treatment will clear within a few days.
During your consultation, we will address any of your concerns and draw up an individualised treatment plan so you can be assured of obtaining the best results possible.
Treatment Frequency:
Evaluated on a case-by-case basis but the basic protocol is:
Stage 1 - 4 treatments with 14 days interval
Stage 2 - 1 treatment per month for 2 months
Stage 3 - Maintenance treatments - 1-2 treatments every 6 months
Microneedling vs Mesotherapy
Mesotherapy combines a bespoke cocktail of powerful vitamins, which are injected into the lower layers of the skin using a syringe with one needle, whereas microneedling gently moves multiple microscopic needles over the face to cause miniscule puncture marks, activating the production of collagen and elastin.
Main Contraindications:
- pregnancy and lactation
- cancers
- blood clotting disorder medication (e.g. blood thinners)
- active skin infections (e.g. herpes, cold sore)
- diabetes
- autoimmune disorder
- allergy to Hyaluronic Acid or any other ingredients
- Covid 19 vaccine in the past 4 weeks
- Any infections, colds, health issues in the past 2-4 weeks