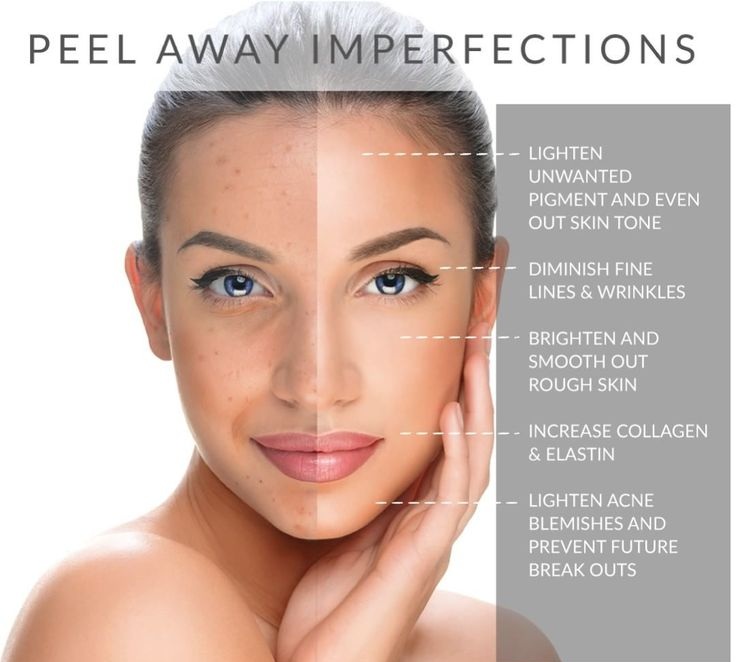 This treatment is tailored to address your skin concern. The skin peels used will differ for every individual based on the skin condition, skin concern, expected results.
Chemical peels are based on the action of acids, enzymes and bioactive substances (vitamins, minerals, amino acids).
Peels can make your skin—and skin-care products—work better. In minutes, acids lift away dead cells and trigger a lovely chain reaction: "As that topmost layer is shed, signals are sent to the living cells below to multiply and move up, to increase collagen production, to make more hyaluronic acid—to act younger". Your skin-care products perform better after a peel because there are no dead cells impeding their penetration.
Glycolic Peel
Peeling with glycolic acid designed for people starting therapy. It can be used as an express SOS facelift
Properties: reducing wrinkles, shallow scars, accelerate cell renewal, they soften and smooth the skin, improve its color and texture, reconstruction of elastic fibers and improvement of skin elasticity, increasing the production of collagen and mucopolysaccharide fibers, accelerate cell renewal, lightening pigment spots and discoloration, cleanse the skin, regulate keratosis disorders.
Lactic Acid
Peeling with lactic acid is intended for people who start skin pigmentation therapy and acne. Can be combined with microdermabrasion treatments or other treatments focused on lightening, anti age or acne treatment.
Properties: effectively brightens discolorations, has antibacterial properties, shows strong moisturizing properties
Mandelic Acid
The product is intended for skin biorevitalization. It works well in the case of gray, dull skin with uneven coloring, pigmentation issues and in the case of so-called smoker's skin.
Properties: has a refreshing effect on the epidermis, effectively reduces small wrinkles, regulates the secretion of sebum, does not interact with the sun which means that the treatment can be done all year round.
Salicylic acid
Salicylic acid is very effective as anti-inflammatory and antiseptic agent, reducing also sebaceous and sweat production. Salicylic peel is effective in combating blackheads and acne.
It is a peel for a young oily problematic skin as well as for a mature skin showing photo- and biological aging.
Properties: reduction of acne, cleansing of blackheads, shallow acne scars, reducing the visibility of pores on the skin, brightening of acne scars, anti-inflammatory and antibacterial effects, regulation of sebum secretion.
Lactobionic Acid
Lacto peel belongs to next generation chemical peels. It has an integrated effect on skin and is suitable for patients from different age groups. Thanks to minimal irritative effect, it can be successfully performed even on sensitive skin.
Peeling with lactobionic acid designed for the care of sensitive skin. The products of this line are effective in removing erythema. The preparation combines all the advantages of AHA acids, without side effects in the form of pinching and flaking. A feature that distinguishes it from traditional acids is its soothing and anti-inflammatory effect. An additional advantage is strong regenerating properties, soothing irritations, redness, inflammation, as well as strengthening the skin barrier.
Properties: can be used for very sensitive skins, effectively reduces skin erythema, reduces telangiectasias also known as spider veins, has a moisturizing and anti-wrinkle effect.
Ascordic Acid
Vitamin C firms the skin and restores its shine. The lactobionic acid reduces broken capillaries.
Properties: effectively reduces teleangiectasias, also known as spider veins, clearly brightens the skin, improves skin elasticity..
Aminobytyric Acid
The action of gammaaminobutyric acid is based on the mechanism of blocking nerve synapse signals. After direct application to the skin, it blocks the micro-contractions of the skin's muscles, causing them to relax and, as a result, to reduce mimic, expression wrinkles. It gives a BOTOX like effect.
Azelaic Acid
Who is this peel for:
acne prone skin, rosacea skin, psoriasis, skin prone to redness or folliculitis, skin with pigmentation issues.
Azelaic acid peel is ideal for sensitive skin.
Azelaic acid has an antibacterial effect. In addition, it has anti-inflammatory properties.
It prevents the breakdown of sebum and lipids into ingredients irritating and intensifying acne lesions. It prevents the formation of blackheads.
By inhibiting tyrosinase, it prevents pigmentation and also blocks the activity of overactive melanocytes.
Pyruvic Peel - acne, oversecretion of sebum, breakouts, blackheads
A course is recommended for optimal results. Details will be dicussed at your first visit.